For today's blog post, we have a guest article written by Erica Di Marino, MScOT. Erica graduated with a Master's in Occupational Therapy from McGill University in 2015. She has always had a passion for working in paediatrics and currently works at Kiddo Active Therapy, a paediatric multidisciplinary clinic, and in elementary schools around Montreal. In this article, Erica will explain what occupational therapists do, and how to know whether or not pediatric occupational therapy is right for your child!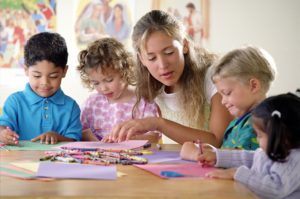 After reading the title, your first question may be "What is Occupational Therapy?" and you definitely would not be the only person to ask yourself this! To put it broadly, an occupational therapist (OT) is a rehabilitation professional who enables engagement and participation in people's daily occupations that are important and meaningful to them. In the OT profession, the term occupation is considered everything that people do throughout the course of their day that is essential to their health and well-being (i.e. getting dressed, going to work, engaging in leisure activities). It is somewhat difficult to define more specifically, as the role and mandate of an OT can be largely dependent on the setting and population with which they work.
In the field of pediatrics, OTs can work with children who are having difficulty participating fully and meaningfully in daily occupations that are important tothem. These occupations can include anything from participating in play activities (a primary childhood occupation!), to socializing with peers, to engaging in self-care tasks (ex. dressing, eating, hygiene tasks) and to participating in fine and gross motor activities (ex. cutting, writing, jumping, running, skipping, etc.). Occupational therapists are trained to be holistic professionals, meaning that they look at all aspects of the person (physical, cognitive, social, sensory, affective, etc.) and their environment (home, school, etc.). More specifically, OTs look at components such as fine and gross motor skill development, sensory processing skills and self-regulation in addition to visual motor and visual perceptual skills. In this way, OTs can help to figure out why a child may be struggling with the activities they are expected to do on a day-to-day basis.
Depending on the pediatric setting, OTs can carry out an evaluation, including a combination of standardized tests, clinical observations and parental/caregiver interview to best understand the child and their needs. They can then establish functional treatment goals based on the areas that are most meaningful to the child and family. OTs are trained in a wide array of theories and frameworks and, through critical analysis, can build treatment sessions using the framework that best fits the needs of the child at hand. Treatment sessions most often include play-based activities that are at a "just right" challenge level for the child's ability. More specifically, treatment activities are chosen and adapted in order to allow the child to work on skills they may have difficulty with but in a way that still allows them to feel successful. Building a child's confidence and self-esteem by allowing them to feel success and by choosing treatment activities that are fun and motivating to the child are essential in OT practice! OTs can also be key collaborators with parents and school staff as they strive to educate and teach strategies/modifications to all adults working with the child in order to allow for them to be successful in all their environments and to generalize skills.
If you feel like your child is having trouble participating in day-to-day activities due to any of the reasons mentioned above, finding a pediatric occupational therapist in your community may be beneficial!
Written by:
Erica Di Marino MScOT
Occupational Therapist