On June 3, 2017, I had the pleasure of interviewing one of the prominent leaders in the field of physiotherapy, Dr. Bahram Jam, renowned physiotherapist and founder of the Advanced Physical Therapy Education Institute (APTEI). At the time, Dr. Bahram Jam was giving his Advanced Lower Extremity Certification program in Montreal, Quebec, in Canada.
The interview stimulated insightful discussions and taught me to be critical of what I know. Dr. Bahram Jam is an incredibly dynamic and passionate healthcare professional. His love for teaching is contagious and his willingness to help others excel in what matters most to them is what makes him an incredible leader. From humble beginnings, to a day in the life of Dr. Bahram Jam, there is just so much to learn. So sit back, relax and enjoy!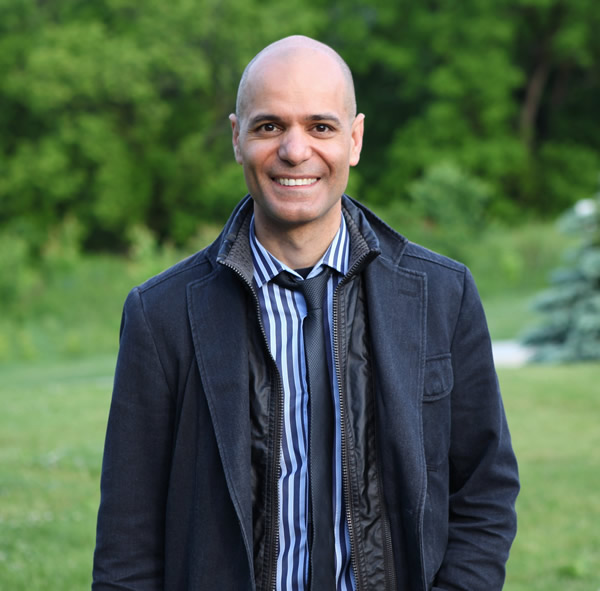 Part 1 – Humble Beginnings
Anthony: How long have you been a physiotherapist for? What made you choose this field?
Dr. Bahram Jam: "I have been a physiotherapist for 25 years. I graduated in 1992 from the University of Toronto. I chose this field by chance to be honest. Back then you got accepted into the physiotherapy program right out of high school and a classmate of mine said he was applying into the physiotherapy program so I said, "yeah physiotherapy sounds good", but I had no idea. I did volunteer in a hospital, and I did volunteer as a big brother for a boy who had autism, so those experiences helped, but academically, my grades were not good. I would have never gotten into a university physiotherapy program now.
Afterward, I started working in a private clinic in Toronto and did that for about 7 years. I did my manual therapy courses. I also did some McKenzie courses, but they started to contradict the manual therapy courses. One would say, "touch patients", the other would say, "don't touch patients". So I did both of them. I did my credentials in McKenzie. I did the Shirley Sahrmann courses, which were strong on muscle retraining. Overall, I felt that everyone was saying different things.
At that point, I decided to go to Australia with my wife and two kids in 1999 and I completed my Clinical Master's there. I sold my house, my car, my furniture and left. This all really started because I loved teaching, and I applied to the University of Toronto twice, and got rejected. I applied to McMaster University, and got rejected. My statistics grade was terrible so I even did night school to try and improve that mark and then summer school. Even then, I still got rejected. Trust me, no one has gotten rejected more than me. So I decided to head to Australia. Everything I teach, I essentially learnt in Australia. It was at University of Queensland. Gwen Jull was the head of the department, with Bill Vincenzino & Paul Hodges as well. Michelle Sterling, who has done tons of research on whiplash, were all my teachers. It was an incredible program. I can't endorse it enough. If you want to really learn manual therapy, just go to Australia. It'll save you time and money. You just can't compare the learning experience."
Anthony: "What is the Clinical Master's program like in Australia?"
Dr. Bahram Jam: "Well first of all, you see patients in the hospital setting. It's part of the program and it's full time, compared to Canada, where you need to have a certain number of supervised clinical hours. It's just so difficult and limited, to have to find a physiotherapist and go to their clinic and see their patients. It's all pre-organized there. It's a one year program. You get it done with. We also had anatomy labs, and the manual therapy was based on the neurophysiological effects… at least I'm going back to what I did when I was there. Even now, manual therapy has changed so I can't comment on the courses given now. I can only comment on what the course was like 20 years ago. Before I went to Australia, the focus was moving L4-L5 in the superior direction to glide the facets, which I now know is impossible. Or for instance, a rib has come out, and now we have to manip it back into place. That's just improbable. I've written a whole paper on it. Ribs don't come out. It was just nonsense that I learnt. Or for instance, I want you to manip T7-T8 facet joint cranially or bias it into extension. It's just impossible. The only manip you can get in the thoracic spine is a gapping manip. If you think you can bias it inferiorly or superiorly, it's just wishful thinking. You just can't. There's the skin, there's multifidus, there's fascia. There's no way you can do it, unless you can somehow hook onto the facet joint, there's no way you can bias it. These are all the things I believed in manual therapy before going to Australia. In Australia, they're less like that. They're more logical."
Anthony: "How did the idea of the Advanced Physical Therapy Education Institute (APTEI) come to mind? When and how did it all start?"
Dr. Bahram Jam: "The ultimate goal was actually to teach the manual therapy courses. That was always my dream. I became an FCAMPT here, because in order to teach, you need to have done the level system here. So I did it and then applied to teach the courses. I never got selected. I volunteered for six months, then one year. I had volunteered and assisted all the Ortho division courses twice, from beginning to end, and was still never selected. At that point, I gave up and started the Advanced Physical Therapy Education Institute, and of course, this was the best decision I ever made. So I guess being rejected repeatedly was the best thing that happened to me. My courses now do quite well across Canada."
Anthony: "When you first started APTEI, what was it like?"
Dr. Bahram Jam: "Initially, I was giving seminars in clinics. It was for whoever wanted to listen to me really. The first time I went out of province to do a seminar was in Nova Scotia actually. They called me up and asked me, "Hey would you be interested and coming to speak to some physiotherapists" and I accepted. I flew over, rented a car, and I had four students. So technically, it was a complete financial loss but I didn't care. Four people wanted to hear what I had to say. Even until this day, I don't do it for the money. Don't get me wrong, I make a profit from teaching but that's not what drives me. What made me fly to Nova Scotia was my love for teaching."
Anthony: "Where do you see the APTEI in 10-15 years?"
Dr. Bahram Jam: "I don't have a plan to be honest. I'm not much of a planner. I mean, people think I'm this business mind. I don't at all have a business mind.  I used to have lots of VHS and DVD courses, but now there's no sales in that because who buys a DVD right? One of my goals is to have more online courses. I currently have four online courses. If I could, I would have all of my courses online, but the live courses are just so much better. Most people start the online courses but don't finish them, but when you pay for a course and attend it, it's different. The learning experience is different too. The hands-on aspect of taking a live course is what makes it so incredible. I mean you can watch videos of researchers and clinicians on Youtube or read their research, but we still go to conferences. We listen to music, but we still go to concerts. That being said, I can appreciate that not everyone can make it to the live courses, which is why I want to have more online courses."
Anthony: "Do you own a private practice?"
Dr. Bahram Jam: "No, I don't actually. I've been working at a private clinic called Athlete's Care in Toronto for the last seventeen years. I work about 12 hours a week. I really place my focus on teaching. I know that if I were to open a clinic, that would be my life and I wouldn't be able to travel and teach. That being said, I always said I teach, I still need to practice. If I wasn't a clinician I would be teaching information from text books without directly applying. That's how I weed out what works. If it's proven, and it works for me, I'll teach it. If it's proven to work, but doesn't work for me, I won't teach it."
__________________________________________________________________________________________
Part 2 – Looking Back
Anthony: "What was your most memorable moment in your career as a physiotherapist?"
Dr. Bahram Jam: "I can't pick one. My primary caseload is patients with persistent pain. You can call it central sensitization. You can call it chronic pain. I don't treat high-level athletes. I've never had interest in treating elite athletes, or movie stars. I treat the average person, so when I treat someone who has been experiencing pain for many years, who has been diagnosed with everything under the sun, with multiple failed treatments, and all I do in one session is reassure them and talk to them about pain education, and they come back and tell me, "you've change my life". That's the big highlight for me.  I didn't even touch them. I didn't have to do any manual therapy. They've had tons of manual therapy, manips and muscle retraining but no one took the time to talk to them. I may not even be able to take the pain away, but they feel better. If I can help them improve their quality of life, then I've done my job. I mean, helping an athlete with an ankle sprain return to play… they're going to get back anyway. It is important to help prevent recurrence, but it's just not as fulfilling for me."
Anthony: "If there was one thing you could go back and do differently, what would it be?"
Dr. Bahram Jam: "I don't think I would do anything differently. I'm here today because of everything that's happened and I'm happy where I am. I guess I could say I wouldn't have done all of my manual therapy courses that way that I did them, because in the end, I would have gone to Australia earlier. I should have focused on McKenzie and Mulligan. Actually, I would go to New Zealand and learn directly from Mulligan. That's what I would do!"
Anthony: "Where was the most interesting place you travelled to, to give a course?"
Dr. Bahram Jam: "Bermuda! They invited me a few years ago. Everywhere I travel to is an experience though. I travel across Canada to give courses. I went to Iqaluit in Nunavut. They only had five physiotherapists and all of them came to the course. That's a 100% attendance rate! That's the entire province! I've been to Yellowknife too. I love going there. There are 12 physiotherapists there who do my courses. I went there and did dog sledding, and helicopter rides. Lots of fun stuff!"
__________________________________________________________________________________________
Part 3 – Clinical Pearls From Dr. Bahram Jam
Anthony: "Seeing as you have a considerable experience in treating patients with chronic pain in a private setting, how do you get around their expectation of manual therapy and modalities?"
Dr. Bahram Jam: "To be honest, if they have that mentality, I'll give in initially. I mean if they want ultrasound, and that doesn't happen often, I'll take it out. I may not even plug it in, but I'll use it… (laughs)… only kidding. I do manual therapy on my patients, but not for the purpose of mobilizing specific joints but for facilitating movement. You can call it the placebo effect. I call it the neurophysiological effect. You can only talk to patients about fear avoidance, stress, anger, catastrophization, and all that, when you have therapeutic alliance. When you feel that you are connected with the patient, that's when addressing these issues are more likely to work. If you do it on day one, it'll backfire. You can't just start right away by saying, "look the disc bulge on your MRI is irrelevant and it is not the cause of your back pain". Their doctor in the white lab coat just told them it is the cause of their low back pain, so you'll get resistance. You need to have therapeutic alliance first, and then will only come if you listen to them first. Afterward, if the manual therapy and modalities don't work, then you can use that with them and suggest a different approach. I actually wrote a book on this. It's called "The Pain Truth and Nothing But!" I get some of my patients to read it, but only when they're ready."
Anthony: "What do you think of the book Explain Pain, by David Butler?"
Dr. Bahram Jam: "I think it's a fantastic book. I endorse it a lot. The only challenge I have with it is that it is too deep and very long. You need to have a very motivated patient to read that. They talk about Substance P and ion channels, and I don't believe patients understand that. The reason why I wrote "The Pain Truth and Nothing But!" was for the same purpose, but at a Grade 5 reading level, and it takes 20 minutes to read my book and I've also made three videos for it as well."
Anthony: "If you could recommend one course to take post-graduation, what would it be?"
Dr. Bahram Jam: "I would recommend the McKenzie courses. It just demystifies things. Most people, after taking many courses, think, "ok, but what do I do with neck pain in the end? Is it C5-C6 Is it the facet joint?" Who cares?! Find a directional preference. What is the movement that makes them feel better and get them to do that repeatedly, without making your life difficult. Will everybody respond to that? No, but the majority will. Then again, McKenzie doesn't talk about stability, motor control or psychosocial issues and how to address that stuff. From a mechanical point of view, I would recommend McKenzie. My second suggestion would be the Mulligan courses, especially if you're treating the peripheral joints. I incorporate all of these concepts into my courses actually, because I believe there are some good concepts and some not so practical concepts in all the courses."
Anthony: "What is the most common question you have been asked (either by a patient or a colleague?"
Dr. Bahram Jam: "Most common question I've been asked by a patient is, "how do I get rid of my pain?", and my question to them is, "before we talk about your pain, what do you want to be able to do?" I really focus on function, rather than the pain. Yes, everyone wants to be pain-free, but for what purpose? Is it so you can go for a hike? Do gardening? Walk? You have to have a purpose. I want to be able to play with my kids again. I want to be able to play hockey again.
The most common question I have received from a colleague is, "what course should I take?" In that case, I would highly suggest McKenzie and Mulligan courses. Another common question I get is, "what is one book you would recommend for me to read?" I believe the most educational read would be Explain Pain by David Butler. My second choice would be Explain Pain Recharged, which is the new version of it. My next choice would be Painful Yarns by Lorimer Moseley. It's very comically written. It's a short novel. If you had to listen to one speaker, it has to be Lorimer Moseley. He is my hero. He's such a great speaker, and so humorous. I have a man crush on him."
Anthony: "Do you have any advice for graduating physical therapy students?"
Dr. Bahram Jam: "Here's my advice for graduating physical therapy students. You can work in clinics where you see 4 to 6 patients an hour in Toronto. They have assistants to help out with the remainder of the treatment. What can you really do for the patient? I feel like at the end of your work day, you're going to feel dissatisfied. You basically have the time to ask the patients how they're doing, do some quick manual therapy and that's it. Patients are seen in assembly lines. I've seen clinics where the physiotherapist will see 8 patients in an hour! It's not ethical. At the end of the day, it's easy to feel unfulfilled, because you'll say to yourself, "I went through all of this schooling for this? I just want my patients to know that this is not what physiotherapy is". So if you don't like your job as a physiotherapist, it isn't because of the profession, it's that particular job that you aren't happy with. I've been a physiotherapist for 25 years and I wouldn't want to do anything else. I absolutely love my job. I love seeing my patients. If you aren't happy, change that. Go work for another clinic, challenge yourself somewhere that involves a little more critical thinking. Get away from that assembly line treatment. The ideal, I think, is the one hour evaluation and half an hour treatment. That's what I do and I think it's a great system, and it works!"
__________________________________________________________________________________________
Part 4 – Looking to the Future
Anthony: "According to you, what is the profession of physiotherapy doing right? Where is there room to improve?"
Dr. Bahram Jam: "That's a deep question. I'm very happy that we have our national association, the Canadian Physiotherapy Association. I don't know what the percentage of membership is. I think it's maybe 50%. It should be 100%. People say, "oh why should I pay for the membership to join the CPA?" We need a body outside the college, a body that promotes us. We used to be a diploma degree with nurse hats, and then remedial gymnasts, and then a Bachelor's degree and now a Master's degree, and in the United States, it's a Doctorate. We need a professional association to lobby for us. We used to be "physician's little helpers", and the patients could only see us if the doctor recommended us. Now are considered primary healthcare professionals for the last 25 years. Without the professional association and the lobbying, we would have never achieved that. I think we've done well.
What could we do better? I don't know if it's the same here in the province of Quebec, but in Ontario, people who are healthcare professionals who are not physiotherapists, state that they do physiotherapy. I've written time and time again about it to try and change this. It's the only thing that makes my blood boil. For instance, chiropractors who use ultrasound and prescribe exercises say they do "physiotherapy". They don't claim to be physiotherapists. They just say they provide "physiotherapy". Apparently, they're allowed to this because the term "physiotherapy" is not registered. No physiotherapist who does manipulations would claim that they do "chiropractic" also. You just wouldn't. So what happens is when a patient gets a referral for "physiotherapy", they'll go see a chiropractor, who is not a physiotherapist, because they claim to do "physiotherapy". Even if some kinesiologists prescribe exercises, or athletic therapists use modalities, they'll say that they did "physiotherapy". This drives me insane. I mean, you can't bill for it, but the public doesn't understand the difference. I have no problem with chiropractors doing ultrasound and prescribing exercises, but they are not doing "physiotherapy". Physiotherapy is so much more than just ultrasound. We're way past that as a profession."
Anthony: "Where do you see the profession of physical therapy in 10-15 years?"
Dr. Bahram Jam: "I don't know. I don't have a crystal ball, nor have I planned that far ahead. I'm more about the present. That being said, I'm hoping we'll be way more advanced in our knowledge of pain. My ultimate dream is to figure out how to treat people with persistent pain. There's no such thing as a magic bullet. That will never happen. I just want to get closer to the answer and getting better at treating the brain. Things go out of fad. Trigger points were a fad. Manual therapy was a fad. But the brain… this is all the work of David Butler and Lorimer Moseley, among others… I don't think this will be a fad. I don't see the brain going out of style. I'm hoping in ten years, we'll appreciate much more how much power comes from treating the brain, and not mobilizing facet joints."
__________________________________________________________________________________________
Part 5 – Let's Get To The Fun Stuff
Anthony: "What is your favourite sport (to play, and to watch)?"
Dr. Bahram Jam: "I actually don't play sports. I don't watch any sports, expect if we go to a bar, and it's the final game, I'll watch the football game. I've gone to a game because I've been invited to go. I'm just not a sports guy. That's maybe because I didn't grow up playing sports, so I'm biased. I do love watching gymnastics though!"
Anthony: "What is a day in the life of Dr. Bahram Jam?"
Dr. Bahram Jam: "I have three kids, but they don't need me anymore. I'm pretty much ignored. They are seventeen, nineteen and twenty one years old. There's my wife, who I do everything with, from going to the movies, to eating out for supper. I really try and balance work and pleasure and family. That's why I only work twelve hours I week. I could work forty hours a week seeing patients, and make more money, but then what? I don't know what I would do with more money. I would still drive my old Volkswagen Jetta. I work very hard, at not working hard. That's what I do on my spare time. People thing I'm working hard all the time, but I'm really not. Teaching is not work. I taught for 9 hours straight today. I'll be teaching for 9 hours straight again tomorrow and I don't get tired at all"
Anthony: "I've come to realize that morning rituals are a trend among some of the most prominent minds of our day and age? Do you happen to have your own?"
Dr. Bahram Jam: "I get up early. I'm an early riser. I believe in not waking up with an alarm clock. I wake up naturally. Sometimes it's 5 a.m., sometimes it's 5:30 a.m. I just feel that waking up with an alarm clock interrupts you while you're in mid-phase sleep, and you just wake up feeling exhausted. Then when I get up, I do my 3 minutes of yoga. I don't drink coffee or tea. I just don't like the taste of it. I'll have a big glass of water, and five different fruits. That'll be my breakfast. An hour later I'll have my cereal and soy or almond milk and all that. I also do mindfulness meditation. You just sit there and breathe. I'm a strong endorser of that. I even incorporate this with my patients. It's all about the brain and awareness of your body and mind, and work on your ability to shut down. I mean, I can't shut down my wandering brain. Nobody can, unless you're a Buddhist monk or a ninja. Taking the time to do it is important. It's ok if your mind wanders, just be aware of this. After that, my kids wake up and I wake up my wife and then I go to the gym. I return home, get on my laptop, and start reading and writing articles."
Anthony: "What was the last song you had on repeat?"
Dr. Bahram Jam: "My favourite band is the Beatles. I've been to Liverpool, I went to the Beatles museum, I have everything Beatles. I'm a huge fan. I learned how to play a guitar a while back. I bought a guitar with $40 and taught myself how to play. There was no Youtube back then so it was a little harder. I was actually in a band for 10 years actually. I was a singer and guitarist and we played U2 songs. The Beatles and U2 were a huge influence when I played guitar. But the last song I had on repeat was that Ed Sheeran song. I can't remember the name. I actually saw him three years ago in concert before he became popular!"
Anthony: "What's something people don't typically know about you?"
Dr. Bahram Jam: "I'm a musical junkie. I love musicals. I couldn't choose a favourite one. I think I've seen Les Miserables like seven times. I've seen Phantom of the Opera five times. It's not about seeing the play, but just listening to the music and watching artists perform live. I play the harp as well. I started that about four years ago. One day, I woke up and said, "I want to learn how to play the harp". So I went out and bought a harp. I believe that I should constantly find new ways to stimulate my brain. I just play in my bedroom, you know. I'll play for my wife, to help her fall asleep. In reality, she's begging for me to stop playing."
 Written by:
Anthony Teoli MScPT
Registered Physiotherapist
__________________________________________________________________________________________
For more information regarding the APTEI and courses provided by Dr. Bahram. Jam, please visit the following website: http://www.aptei.ca/
For more interesting articles and updates regarding the latest research in rehabilitation and sports medicine, please like and follow the InfoPhysiotherapy Facebook page!